LOOPIX® Wound Drainage Tube Fixing Device
The clinical problems such as the fixation, nursing and accidental removal/migration of medical drainage tubes have always plagued medical staffs and patients, especially the patients who needed long-term drainage.

Different from the traditional suture fixation, LOOPIX® is a revolutionary non-invasive drainage tube securement device with exclusive patented design, which achieves stablizing stitchless fixation, saves operation and nursing time efficiently, and increases the comfort of patients . It is designed for all non-vascular catheter drainage procedures and fixations.
LOOPIX

®

Drainage Tube Securement Device
LOOPIX® Drainage tube securement device is unique and identifiable by its creative loop-like adjustable locking system. After attaching the hydrocolloid adhesive dressing to the skin, rotate the locking system clockwise. The three hidden strips inside of the system will come out spontaneously to enlace and tighten the tube/catheter.
More than that, LOOPIX® can also deal with the tube changing, drains re-positioning and replacement of the customized absorbent pad for exudates, which saves the workload of postoperative care. There are two buttons in the diagonal position of the loop, and while keep holding down the buttons and rotating the locking ring counterclockwise, the strips will be loosened and back to its original position. Surprisingly, we also designed secondary locking ties to prevent and stabilize the drainage tube from swing and displacement while moving and walking, ensuring comfort and a smooth drainage. All these features above have made LOOPIX® Drainage tube securement device alternative to the traditional suture fixing. Refer to the Loopix one page site.
Disadvantages of Suture Fixing in Drainage Tube Fixing
1. Secondary damage to the skin, increasing the risk of infection
2. Inconvenient drainage catheter adjustment, care and nursing
3. Stretch pain and discomfort
4. Catheter displacement and accidental removal risk
5. Removal of suture needed

Problems of suturing fixing in drainage catheter securement








Non-invasive

Invasive

Drainage Tube Adjustable


Can Not adjust the Drainage Tube

Low Risk of Accidental Extubation

High Risk of Accidental Extubation

Easy to Change Fresh Dressing

Not easy to Change Fresh Dressing

Low Allergenic

May Cause an Allergy

No Risk of Infection

Can Cause Infection

Good Appearance

Look Mess


No Pain

Can Feel Pain

Comfortable


Not Comfortable
The Benefits of

LOOPIX

® Drainage Tube Securement Device
Non-invasive design -- Suture free, no stretching pain or exposure to sharps, improve patients' comfort and can be removed by themselves.

Creative loop -- The loop-like adjustable locking system not only reduces the operating time, but also brings convenience to the daily care of medical staffs because of its adjustable holding strips and double fixation design.

Customized absorbent pad -- Specially made for Loopix™, effectively absorbs leaked fluid and exudate by inserting to the locking system.

Friendly materials -- By adopting hydrocolloid and implant-grade materials, Loopix™ is skin-friendly, highly biocompatible and secures for up to 7 days.

Application -- LOOPIX® can be used for drainage catheters of different sizes(6fr-28fr) in various departments.
Structure & Components of Patented Loopix Device
Patented Hoop Bands Securement Design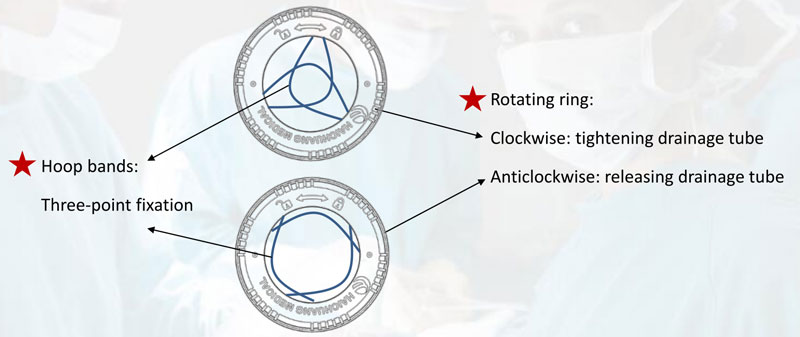 Structure and Components of Loopix Drainage Tube Stabilizer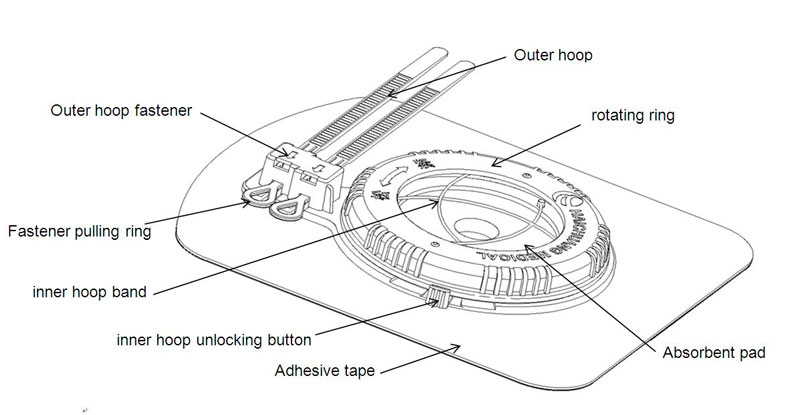 Clinical Cases of Loopix Applications
Wide Range of

Applications

Thoracic puncture surgery, postoperative drainage tube fixation.

General, hepatobiliary and pancreatic surgery drainage tube fixation.

Urology department: urinary catheter securing in suprapubic cystostomy.

Orthopedic drainage tube fixation.

Tumor surgery after the drainage tube fixed.


Ultrasound-guided drainage fixation after surgery.

ICU various drainage tube fixed catheter secure.
Applications in General Surgeries (Learn More)






Applications in Thoracic Surgeries (Learn More)






Applications in Ultrasound Intervention Surgeries (Learn More)
[ Contraindications ]
The Wound drainage tube fixing device is not intended to be used on vascular catheters.
People with wound Infection, too much exudate, or have skin defect around the catheter are prohibited.
People with allergy to tape should use with caution.
[ Storage] -10℃~30℃ ,Keep dry.
[ Production date ] See packing label
[ Shelf Life ] 30 months
[ Registrant and manufacturer] Zhejiang HaiChuang Medical Device Co., Ltd.
[ Production address ] 1st Floor, 146 East ChaoFeng Rd. , Yuhang Economic and
Technological Development Area, Yuhang District, Hangzhou, China

Welcome to visit the LOOPIX® product website: www.loopixmed.com