Incision Protector
1. Protect the incision
2. Prevent the infection
3. Easy to operate
Incision Protector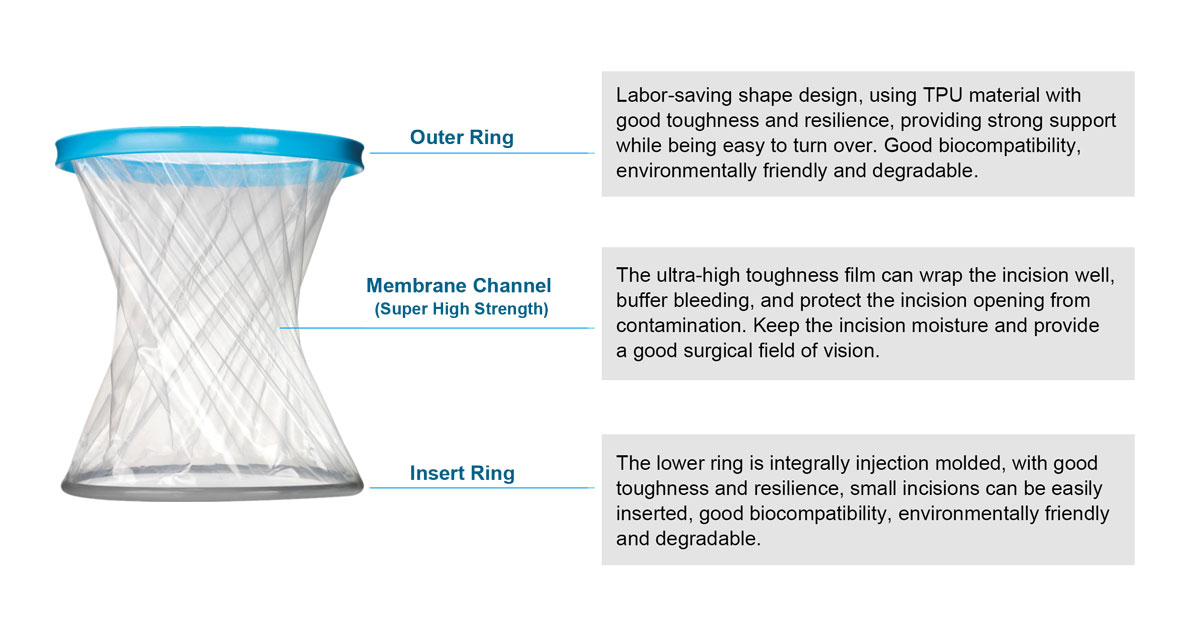 1. 360° Undamaged Expansion

Achieve maximum exposure with the smallest incision size

Wrap the wound effectively reduce incision bleeding

The incision is evenly stressed, which minimizes the risk of potential trauma and pain



2. 360° protected incision
Prevent wound contamination and infection

The edge of the wound is visible

Keep the wound moist

Prevent the incision from being burned by the electric knife
3. Convenient and widely used
Can be used quickly and easily by single person

Used for all types of operations

Maximize surgical efficiency and reduce the need for hand-held retractors

Can be used for single port laparoscopic surgery
Five models can cover all types of surgery, reducing the accumulation of department inventory.
Model

Outer Ring's

Outer Diameter

Insert Ring's

Outer Diameter

Applicable Length

Clinical application (for reference only)

XS

63mm

63mm

2-4cm

Appendicitis; Thoracic and Laparoscopic Surgery; Pediatric Surgery

S

97mm

97mm

2.5-6cm

Single port endoscopy; small incision surgery for extracardiac, nail breast, and chest

M

125mm

125mm

5-9cm

Endoscopic gastrointestinal assisted small incision

L

190mm

190mm

9-14cm

Open surgery

XL

240mm

240mm

11-17cm

Gastrointestinal, liver and gallbladder, chest, gynecology surgery
Note: 1. Because all components can be deformed, dimensional tolerances of ±5mm are allowed;
2. The length of the incision must be less than the outer diameter of the pipe (about 5 mm) to prevent the product from moving and affecting the operation.